Welcome Home
View Our Live Stream Sundays @ 11:00 AM
View our rebroadcast of the previous week's service @ 9:00 AM
​
​
Fayette Family Church is a church for

everyone.

We believe that God has a purpose and plan for all of our lives, and that is why we desire to help you heal, grow, connect, and discover the unlimited love and favor of God!
Live Stream Sundays | 11:00 AM
​
​
>>

Know

god
>>

CONNECT
>>

DISCOVER
>>

make a difference
​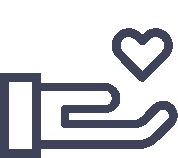 "Whoever is generous to the poor lends to the lord, and he will repay him for his deed." Comfort Level
Wristband Procedure
As people start to come together again in group environments, there is a wide range of comfort levels with physical proximity and contact. People may find it a bit awkward and even confusing exactly how to let others know their greeting preferences and comfort levels. So FFC has implemented a color-coded wristband procedure once we fully open back up to make an individual's preference known without anyone even having to say a word. A red wristband equals no contact; a yellow indicates an elbow bump is okay; green means high-fives or handshakes
​
​
**For more information please Passion for Compassion
​
Today we would like to acknowledge our Passion for Compassion Dream Team. This team includes IT, Prayer, Food Pantry, Hospital, Care (shut-in, nursing home), Admin, 1st Impressions.
They offer their support by making regular visits to Southland Nursing Home and delivering care packages, making weekly phone calls, and sending cards.
We would also like to acknowledge the Fayette Family Food Bank Dream Team. They are on errand for God to supplement families with food due to hardships. Their team picks up, sorts and distributes food monthly.
God Bless you all!
Matthew 5:16
"In the same way, let your light shine before others, that they may see your good deeds and glorify your Father in heaven."
​